This article covers setting up a Sync that pushes Customer data from your Single Customer View into Mailchimp.
Building a Segment to sync to Mailchimp
The first thing to do is to consider the type of Customers you want to sync to Mailchimp. With Distil.ai you have Customer records consolidated from all your systems into the Single Customer View. This is live, it's always kept up-to-date, syncing new records and updating existing records from your source systems as they are added or changed.
For example if a record is added to your CRM, it will be automatically added to your Distil.ai Single Customer View. If they register for an event on Eventbrite, again, that record will come into your Distil.ai Single Customer View and create, or update, that particular Customer record.
All these Customer records live under the All Customers Segment in Distil.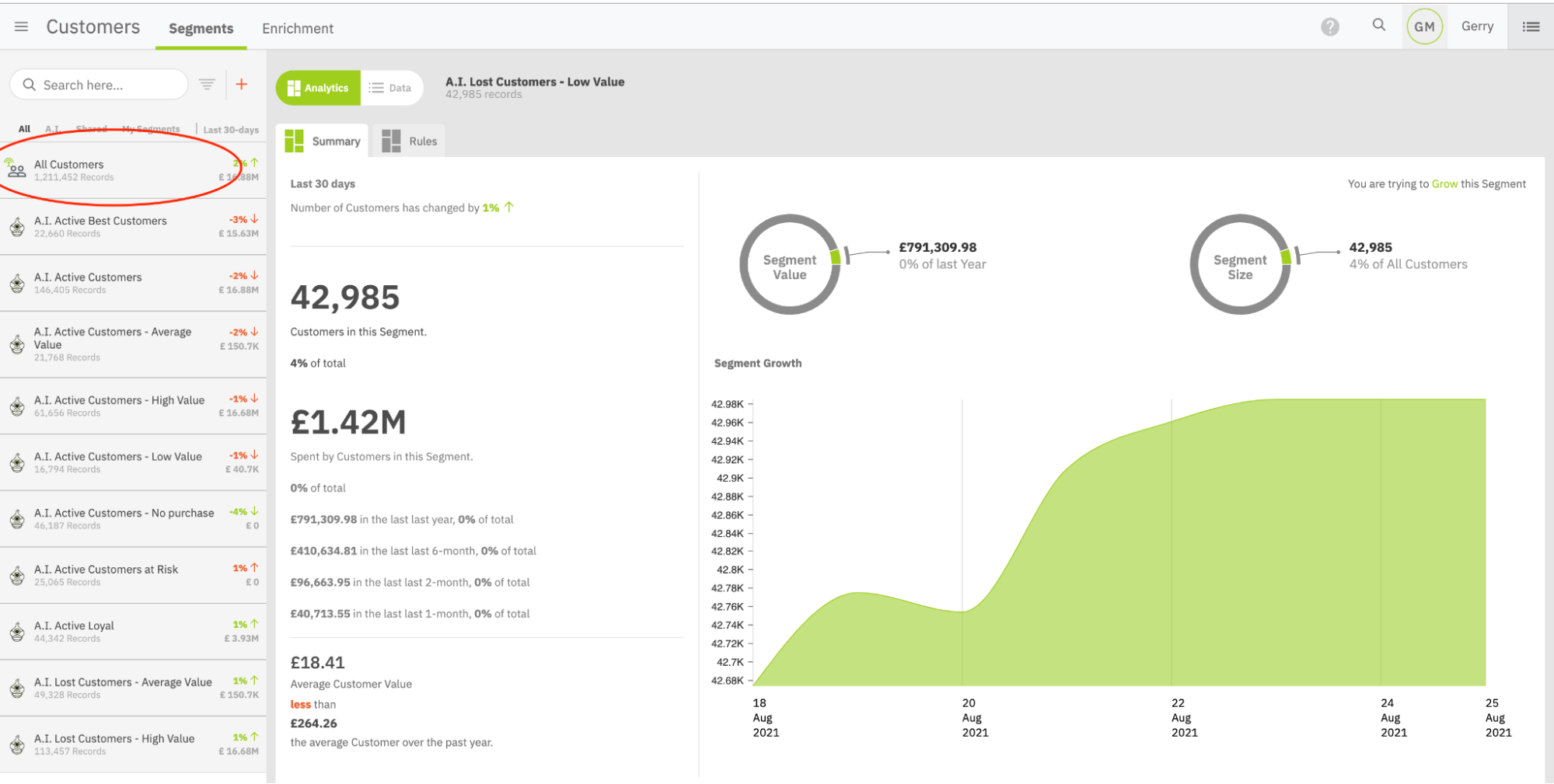 When setting up a Sync to any Destination (like Mailchimp) the first step is to select the Customer Segment you wish to push.
You could of course choose to set up an automatic sync to send all Customer records directly to Mailchimp, but before you do that, there are a couple of things you may want to consider.
GDPR
Mailchimp is of course a marketing tool, and so you may want to consider filtering out any Customers who have not opted in to receiving your marketing messages. You can do this from within Mailchimp, but you may take the view that it's better to be safe and not put those records into Mailchimp in the first place.
Mailchimp Pricing
Mailchimp prices by the Customer Record. This is pretty standard practice in Email Marketing Execution tools. However where Mailchimp differs slightly is that it charges by the Customer Record per Audience (or List as they used to be called). So if you have the same contact in two (or more) different Mailchimp Audiences, you will be charged twice for that person.
At Distil.ai we've had Users who have used Distil to consolidate over 400 Mailchimp audiences into one and saved a fortune on their Mailchimp bills as a result.
If managing your Mailchimp cost is an issue for you, consider which other Customer attributes can be used to restrict the size of your Mailchimp Customer Segment. For example you could use the Engagement Recency A.I. Tag to filter out Customers you've not seen in over a year.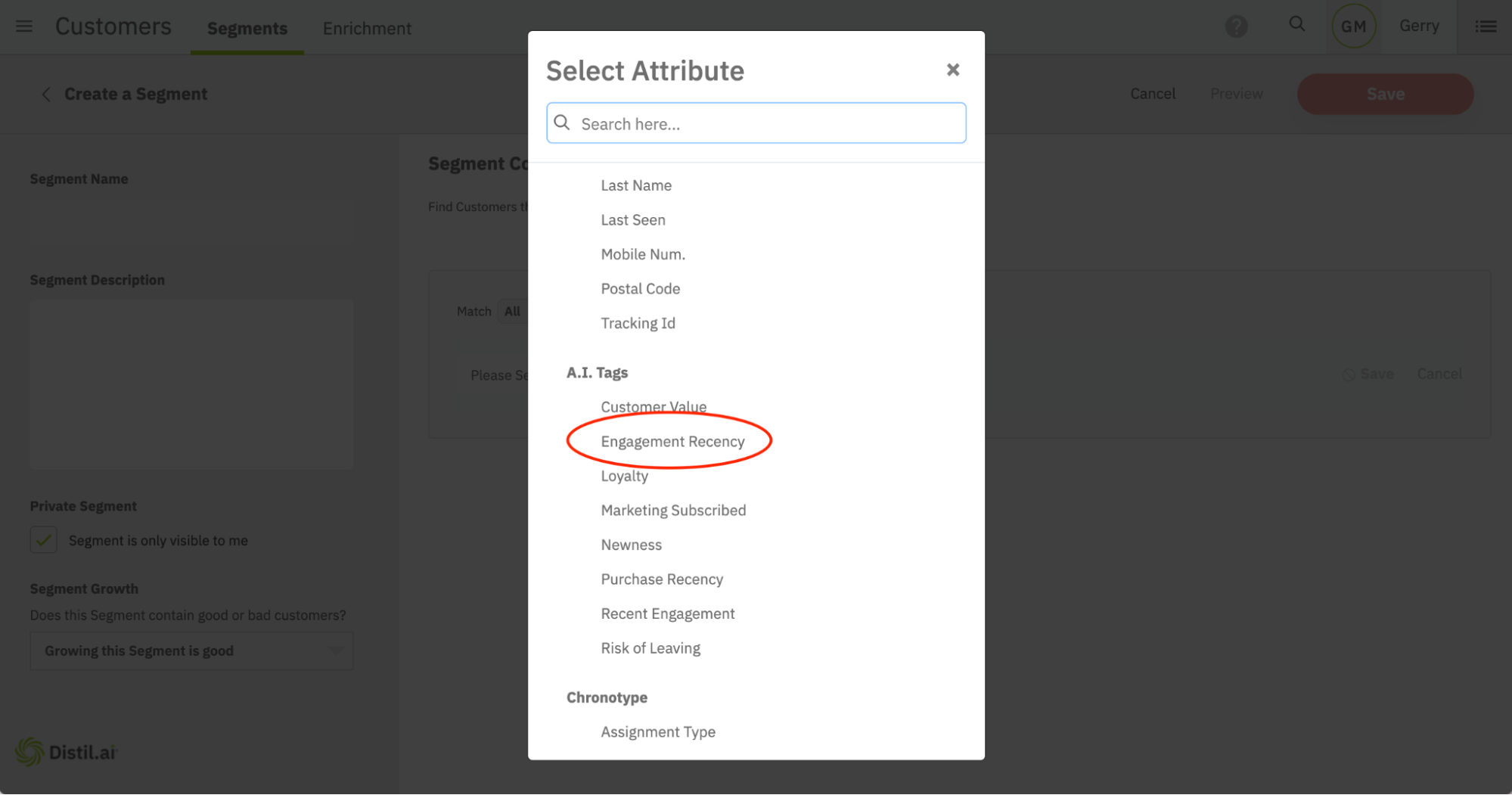 You can of course choose any other Customer Profile attributes used in your Customer Segmentation. If you would like further advice, speak to your Distil.ai Customer Success manager, they will be happy to help.
Setting up Mailchimp destination
Once you have configured a Segment of Customers that you would like to push to Mailchimp it's time to set-up the Destination.
Navigate to the Destination section of Distil.ai and choose Create a Multi-Channel Audience.
This will guide you through the steps needed to push a Customer Segment to one, or more, of your connected destinations. Here enter the name and a description, and then choose the Segment you wish to send to Mailchimp.
When done, press the Next button.
The next step is to choose the Customer Attributes you want to push to the Destination, in this case Mailchimp, but it's the same with any connected platform.
Click Choose Attributes to Sync.


You can now choose any Customer attribute from your Distil.ai Single Customer View. This includes anything pulled from any other connected platform, the A.I. Taggs added automatically by Distil.ai, or even from attributes from Mailchimp itself. (i.e. if you're using Distil.ai to do a Mailchimp List Merge).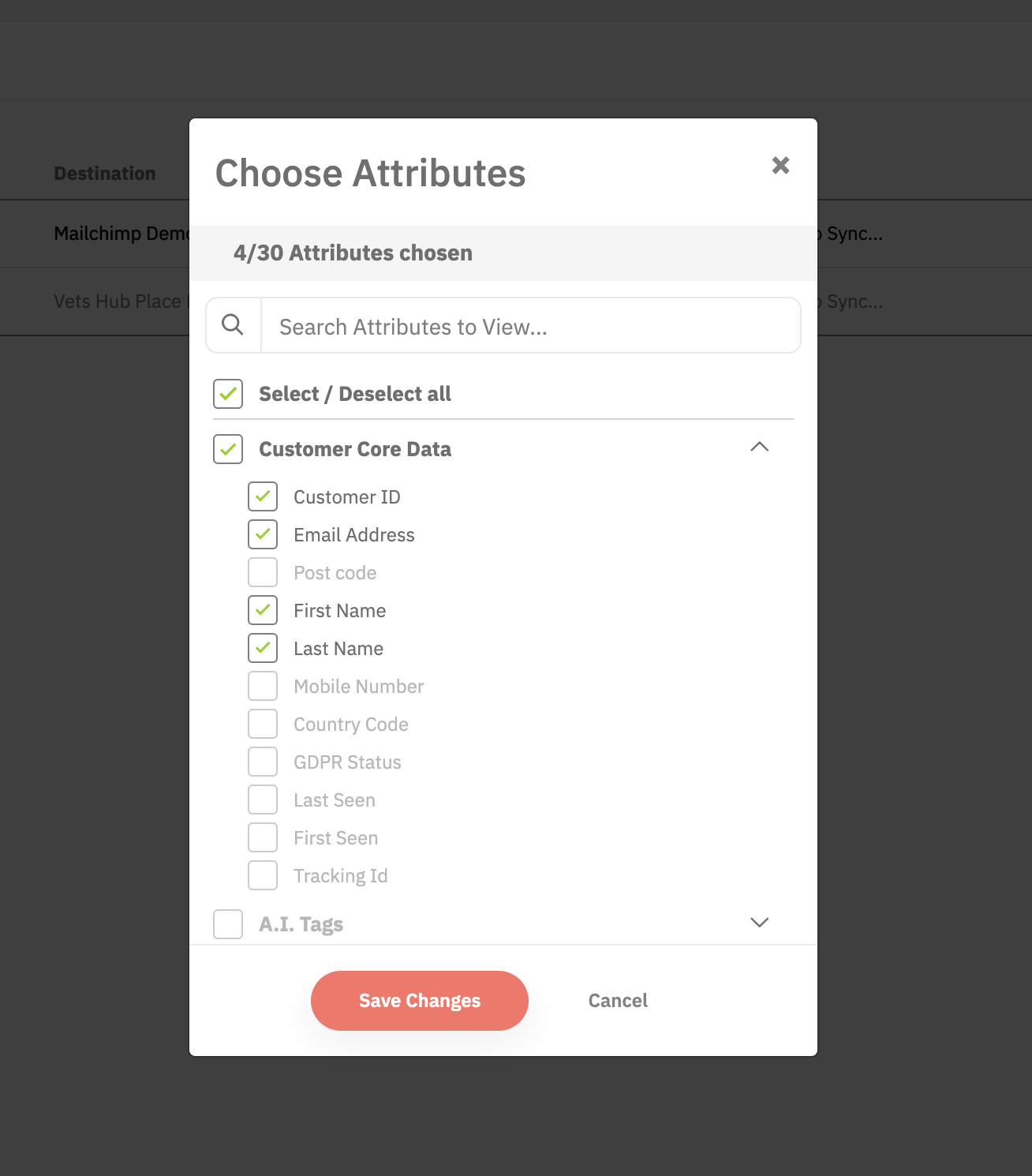 With Mailchimp the number of attributes you can sync is limited by the Subscription you have with Mailchimp. With standard accounts it's 30, with Professional Accounts it's up to 80. Still that gives you plenty to work with.
Check the attributes you wish to sync, and the press Save Changes.

And that's it, your Destination is set up. Customer records will now flow directly from your Distil.ai Single Customer View directly into Mailchimp. Log into Mailchimp and you will see a new Audience populated with the Customers in the Segment you defined earlier.
By default this will be set to Auto-Sync. This means that Distil.ai will keep the Audience in Mailchimp in sync with your selected Customer Segment, adding new Customers as they join the Segment, removing Customers as they leave the Segment – all the while keeping their Attributes updated.
Because of this connection it becomes important that the Segmentation conditions of the attached Segment don't change wildly. Doing so will trigger multiple updates to Mailchimp – which could cause issues with your Campaigns. As a result any Segment that is connected to a Destination becomes locked. You can't change its conditions.
If you wish to update them, go back into the Destination and switch the Auto-Sync switch to off. This will enable you to gracefully update your Segment, check it is correct, and then, when you are happy, return to your Destination and switch Auto-Sync back on.

Next Steps