The Manage Users panel lists all Users who have been invited into your Distil account. All users are listed on the left hand side of the screen, A search bar at the top allows Users to be found and sorted by name.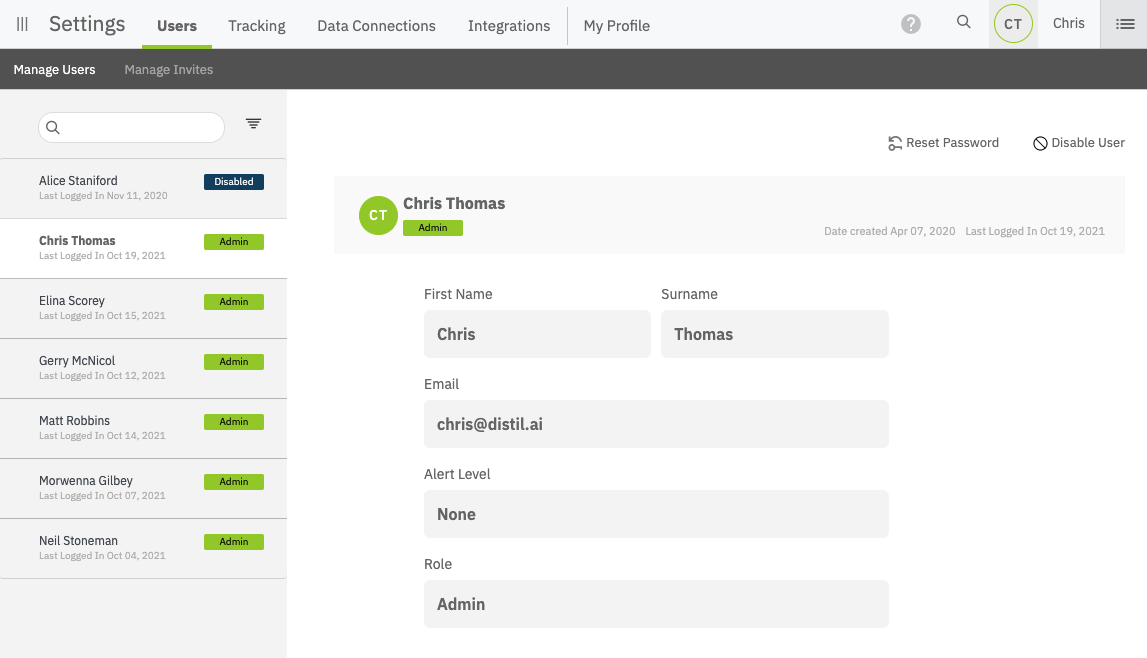 Clicking on each user will display more details for that user on the adjacent panel. Admin users can edit their own or other users' details, specifically:
First Name
Surname
Email
Alert Level – settings to control user notifications of any Data Sync, Integration Sync, or Destination Push failures that have occurred. The options are:

All (Success, Warnings & Errors)
Warnings & Errors
Errors
None

Role – one of six predefined user roles, which determine the level of access a user has to Distil features:

Administrator: Has full access to everything
Contributor: Account for the main system Users, can perform all tasks except Manage Users
Technical: Account type for those invited in to help setup data connections. Restricted to only settings for Tracking, Connections and Integrations.
Reader: Can see Customer data, Segments and Destinations, but cannot change anything
Newsfeed: Can only see the Newsfeed. Has no access to any Customer records.
Disabled: User account is disabled and user cannot log in
All users can view/edit their personal Profile and Newsfeeds.
Also on this panel a User's password can be reset or Account disabled.
Next Steps